Why are you following us?....who are you?.
Sam, on William Bludworth.
Samuel Lawton
is the visionary in
Final Destination 5
. He is a coworker at Presage Paper and a survivor of the
North Bay Bridge
collapse.
Sam is the seventh survivor to die and and was revealed as one of the passengers who died in
Volée Airlines Flight 180
.
Biography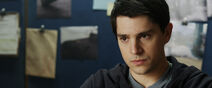 Sam is interrogated by Agent Block.
Sam was resided in New York. He works at
Presage Paper
as part of the local sales division. His sales for the last quarter are very poor. He dates
Molly Harper
and friends with
Peter Friedkin
. Sam also worked as a Chef in a French restaurant called
Le Cáfe Miro 81
. He has an ambition on going to Paris for his apprenticeship, much to Molly's disappointment. However, he cared much about her when he let her join in Paris. Sam was qualified to go on a company retreat along with his coworkers.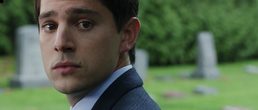 Sam at the memorial.
Final Destination 5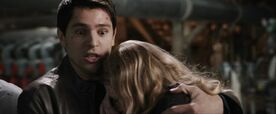 Sam and Molly witnessing Dennis's death.
Sam have cooked breakfast for his co-workers to prepare for their company retreat. Later, he, his girlfriend, Molly, and his co-workers Peter,
Candice
,
Isaac
,
Olivia
,
Nathan
,
Dennis
, and others went inside the bus where Sam begins sees many strange signs. Later on, Sam has a premonition of the
North Bay Bridge
collapse and

Sam at Le Cáfe Miro 81.
Death